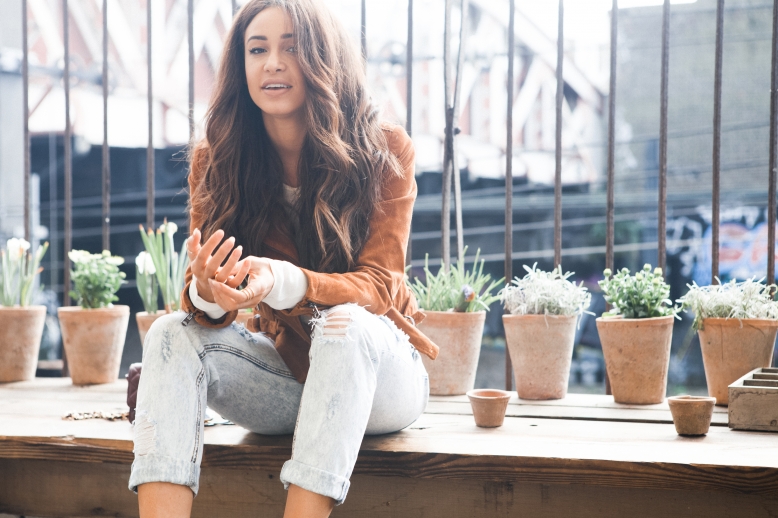 Danielle Peazer leads a rather extraordinary life. In the real world, she is a critically acclaimed dancer, blogger, philanthropist and businesswoman. Online, she is an Internet sensation and her every move is closely watched by over 4 million people.
Despite her vast following, Danielle still remains an enigma to most. Her name has been on the lips of millions as the former long-term girlfriend of One Direction's Liam Payne, but I soon discovered that that was the least interesting fact about her.
We took this hyper reality dream girl out of the screen and into the real world to find out more about the real Danielle Peazer.
It was a phenomenally early Saturday morning and my driver weaved through the deserted streets of Soho with ease. As we drove towards the W Hotel in Leicester Square, my iPhone buzzed and illuminated the dark interior of the car. It was a text from Danielle that read, 'Morning, I just got here and am sat at the table. See you soon x'.
I was instantly impressed by her punctuality, especially at a time when the shops weren't even close to opening.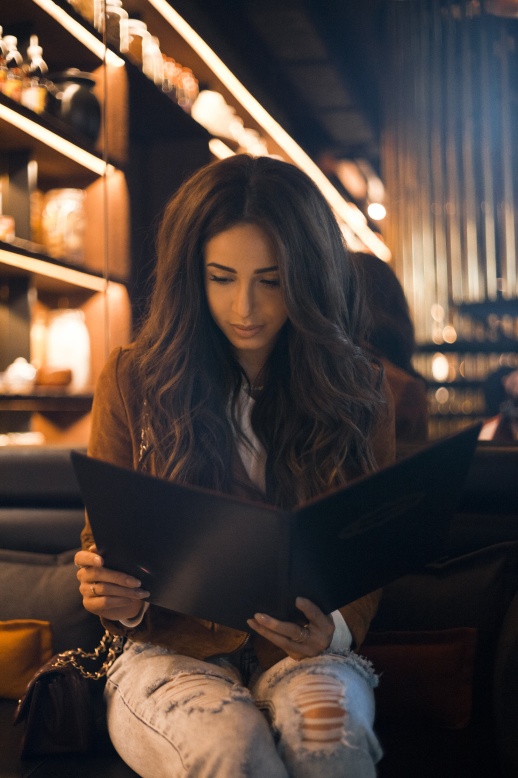 Spice Market is located just inside the avant-garde lobby of the W Hotel. Photographer Jade Sukiya, Fashion Editor Jay Best and I climbed the famous brass 'birdcage' spiral stairs and past an extraordinary wall of spices, which spanned two floors. The spices were displayed in a rainbow of colours, which seemed to perfectly encapsulate all the bright colours, bold flavours and intoxicating fragrances of South East Asian cuisine.
Spice Market is an eclectic and luxurious space. It has an ethnic, authentic, old world feel that is teamed beautifully with the contemporary architecture that the W is so famous for. It is also quietly remnant of a middle-eastern palace, with gold mesh sliding screens, brass screen lanterns and sumptuous chairs in jewel colours adorned with bronze cushions. A particular highlight is the 600 custom designed, gold wok lights that decorate the ceiling, illuminating the diners below.
Danielle was sat at the best table in the house. She was dressed in light denim distressed jeans, a beautiful caramel suede jacket and a brown quilted Chanel bag.
She was so engrossed in the menu that her waterfall of golden brown hair shielded her face. As we approached, she looked up suddenly and a warm smile illuminated her face.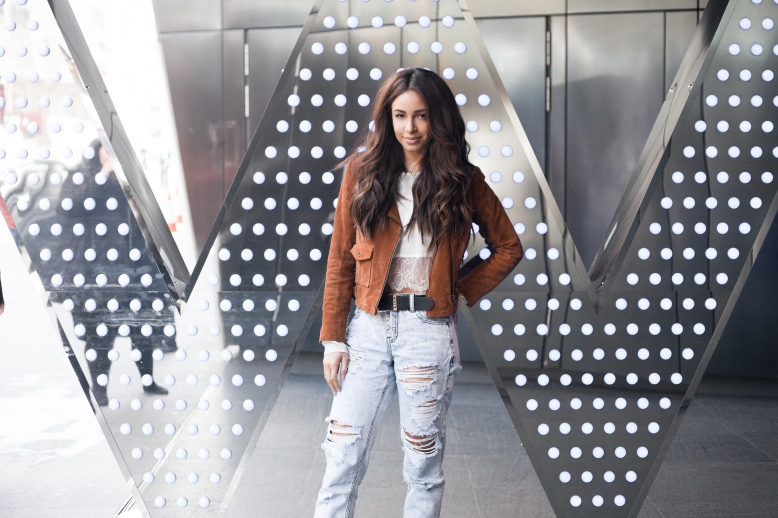 Danielle revealed that she had recently moved to Soho, in a flat that she shared with her fellow dancers and closest friends. We soon discovered that Danielle and I were from the same suburb in North London. We then began swapping embarrassing and hilarious stories about our childhoods there.
Danielle revealed that she had attended the prestigious Latymer school, which is often thought to be for the especially academic. She burst out laughing at this, she said: "Oh please, I was definitely not one of the brightest there by a long shot."
Danielle's laugh petered out and she looked lost in thought for a second. She said solemnly: "To be honest, I find it really strange when people say that school was the best time of their life. I never really fit in at primary or secondary school. I was bullied quite viciously because I was a complete outsider."
She sighed deeply and tucked a long, golden strand of hair behind her ear. Her voice lowered considerably, she said: "I missed all the social events at school because I was so committed to dance."
She added: "The kids at my school didn't like that I was different and wasn't interested in the kind of things that excited them."
Danielle revealed: "In primary school, there was this girl who I considered my best friend, she was the most vicious bully of them all. She would go out of her way to pick on me. She would say or do anything to embarrass me."
Danielle laughed half-heartedly, and then shook her head in disbelief. She added: "It sounds so sad but I bought her a BFF necklace and everything, I was so determined for her to like me and want to be my friend."
Danielle spoke openly about her struggle to fit in with her classmates. She revealed that her Guyanese, Italian and English heritage contributed to her feeling like a misfit in a predominantly white school.
She said: "I wanted to fit in so badly but I was the only mixed race girl in my group. I couldn't fit in even if I wanted to because I had this huge mass of curly hair."
In retrospect, Danielle's physical differences were actually beneficial when she began to dance professionally.
She said: "It was crazy, I had always felt uncomfortable with my curly hair because it was different but dancers really celebrate their differences. When I was starting out, people were booking me because my curly hair was instantly recognizable."
She added: "As I became more established, I didn't need to rely on my curly hair to get noticed, but it felt good to stand out for the right reasons for once."
Danielle recalled a particularly disheartening moment when she revealed to her classmates that she was attending the prestigious English National Ballet School rather than to college or university.
She smiled sadly, then said: "I remember them looking at me really blankly and asking what my 'real job was going to be'. They had absolutely no faith that I would make it as a dancer. They literally dismissed everything I had worked most of my life for."
Danielle has well and truly had the last laugh. After her dreams of becoming a professional ballerina were shattered after a heartbreaking injury, she continued to dance professionally for some of the world's most recognizable faces, including; Taylor Swift, Katy Perry and even the Queen.
Danielle giggled, she said: "Sometimes I bump into people from school and they congratulate me on my achievements but to me it is so insincere. I will never forget the things they said or the way they treated me."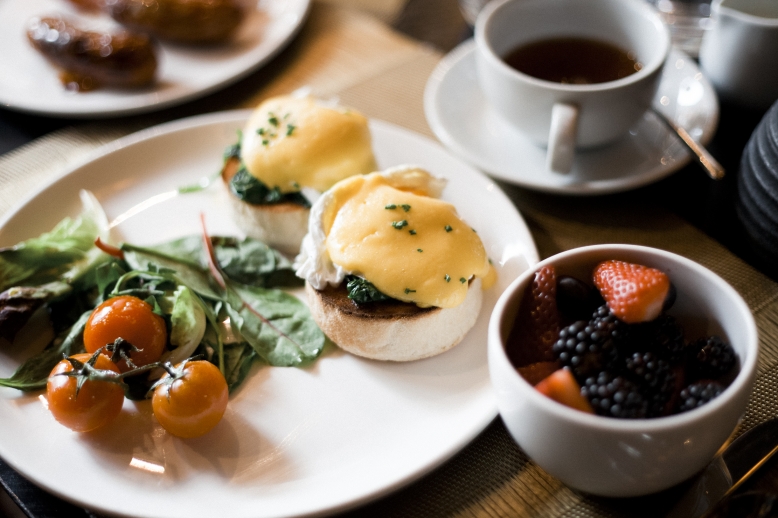 Danielle and I had both ordered the Eggs Florentine, although she had opted for a side of bacon whilst I had chosen a pot of fresh berries. The Eggs Florentine was delicious, the eggs crowned fluffy golden muffins that were glazed with the most luxurious hollandaise sauce.
Danielle polished everything off of her plate with ease, she folded her napkin neatly and as she did so, she said: "God, that was the perfect way to start the day."
We left the middle-eastern haven of Spice Market and headed towards the skyscrapers of the City. We had completely lost track of time and as we pulled up outside the Thistle City Barbican hotel, we catapulted ourselves out of the car and dashed across the lobby.
Finally we found the room where our Chocolate Workshop was being held. We crashed into the room and were met with at least a dozen staring faces, which were sat patiently at long banquet style table awaiting instruction.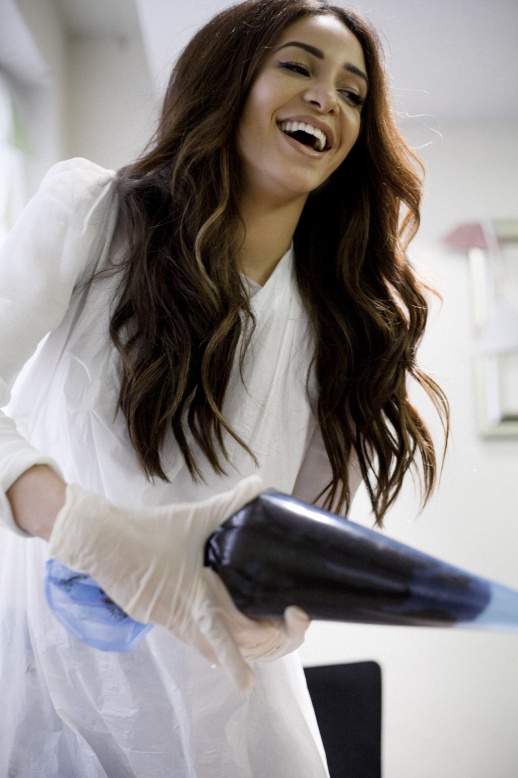 We took our seats at the very end of the table and turned to face chocolatier extraordinaire Roberto. He placed beautifully decorated chocolate milkshakes before us; they were crowned with fresh strawberries and drizzled with melted chocolate. We all took a sip and felt the burn of vodka on our tongues. Danielle raised her eyebrows mischievously above the rim of her glass, before taking a large gulp of her milkshake.
Roberto passed two squares of chocolate to each person and asked us to sample both and see if we could taste any differences. He was handsome and charismatic and quite literally had the entire workshop eating out of his hand.
We sampled both, one was a dark and bitter chocolate, and it lacked any distinguishable flavour. The other melted effortlessly on the tongue and was bursting with a sweet, rich and creamy flavour. Roberto explained that the first chocolate was cheap and poorly made, whilst the other was by a luxury brand. He stressed the importance of buying good quality chocolate and after that taste test I was utterly convinced.
His knowledge of the delicate process of how chocolate is made was riveting. He explained in-depth that the fascinating process began with the harvesting of the cocoa bean, then the fermentation and drying of the cocoa seeds to the chocolate manufaction in the factory.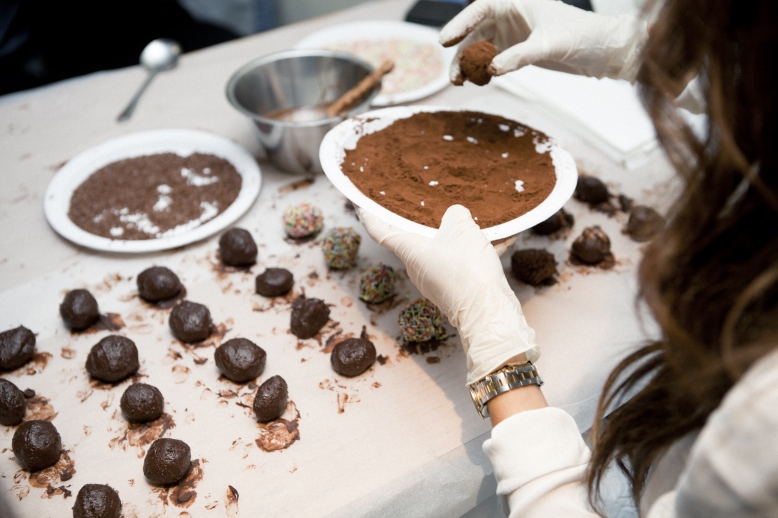 Next we were given the chance to create our own chocolate ganache. We began by mixing a rich, dark and velvety mixture of double cream and the highest quality melted milk chocolate.
Danielle had removed her suede jacket to reveal a delicate white lace crop top. We all looked at her outfit warily, noting our stares, she playfully threatened: "If any of you get chocolate on this outfit, I will literally kill you."
We then proceeded to thrust our chocolate covered spatulas at her in defiance until she squealed and we all fell about laughing.
Once we had our mixture, we filled our piping bags and squeezed out dozens of dark chocolate domes of ganache. We then sculpted them with our fingers, to create perfect little balls of smooth chocolate.
Next our creativity was put to the test, we decorated our ganache with rainbow coloured sprinkles, chocolate chips and drizzled them in melted chocolate. I looked over at Danielle, who was bent over her ganache, inspecting them individually to ensure that they were equal.
She then began playfully flicking melted chocolate on my ganache in an attempt to sabotage them. Her eyes were filled with mischief as she said: "Good effort babe, but yours are more Thorntons bargain bin than Godiva."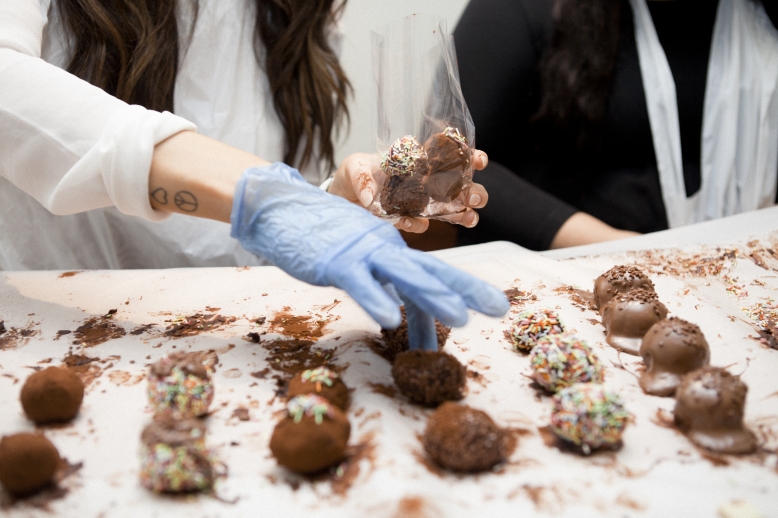 Just as I went to pick up the sprinkles to dump all over her perfect ganache, Roberto appeared and I hid the bag of sprinkles behind my back like a naughty schoolgirl.
Danielle's attention to detail was spectacular. Her ganache looked so beautiful that you would've thought that they had been created by an esteemed chocolatier. She then carefully placed a few balls at a time in small plastic bags, then tied them with gold ribbon and used scissors to turn the ribbon into cascading curls.
Suddenly Pharrell's 'Happy' began to play and we all danced around and sung in unison as we licked the melted chocolate from our fingers.
Roberto congratulated us on our effort, he said warmly: "You girls have made the most beautiful chocolate, you should be very proud."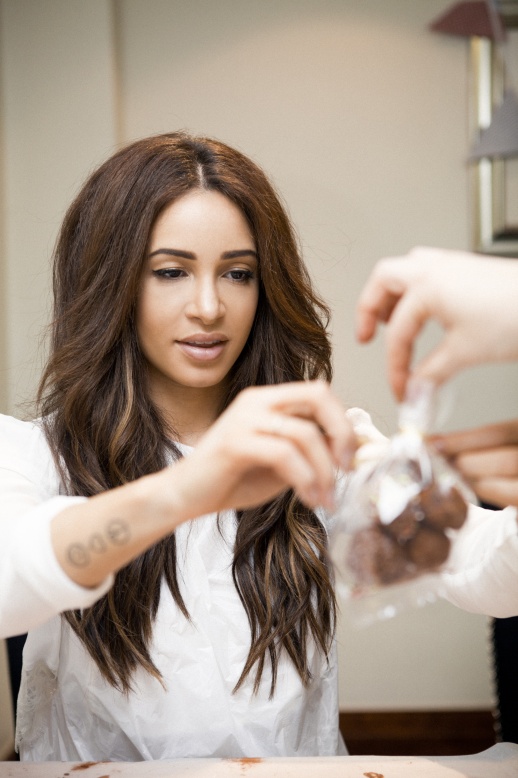 Danielle's hands were filled with her beautifully wrapped bags full of chocolate delights. She carefully placed them in candy floss pink tissue paper. She beamed: "I am going to be very popular when I get home tonight."
Danielle turned to me and said suddenly: "Thank you so much for bringing me here. It is something I have always wanted to do but never got around to. I absolutely loved it, even if your ganache let the afternoon down a bit." I nudged her playfully in the side as she cackled infectiously.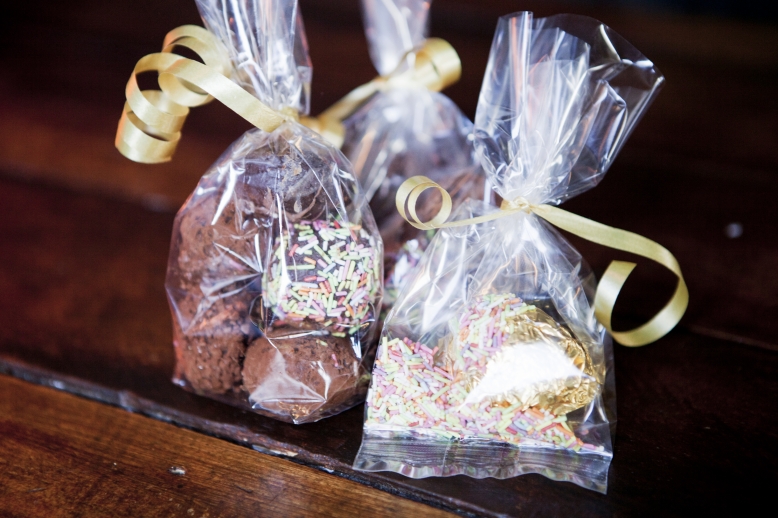 It was the kind of summers afternoon that inspires poets, songwriters and filmmakers. The sun was blazing over Notting Hill, and there wasn't a single cloud in the sky.
Our black taxi drove through the residential streets of Notting Hill, flanked either side by imposing yet majestic white stucco fronted houses. Nearly all of the sash windows had been left open; the sounds of Bob Marley, the smell of cooked food and laughter wafted out onto the street.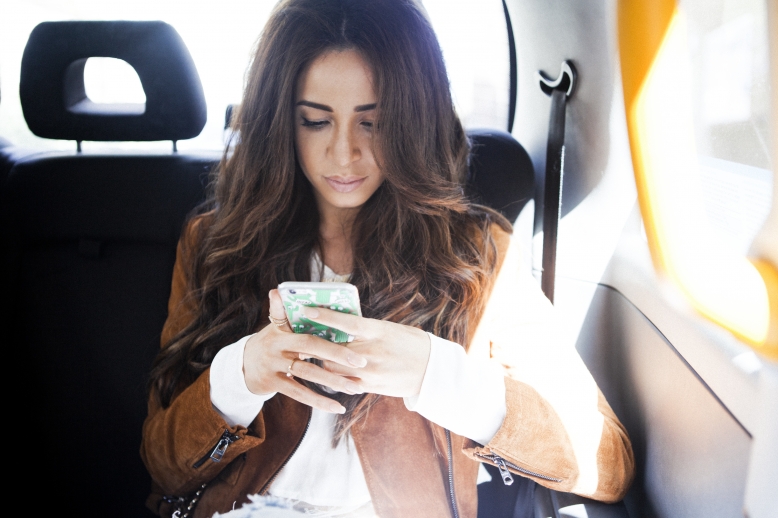 In the heart of West London, perfectly located on artisanal Golborne Road sat critically acclaimed British restaurant West Thirty Six. It is renown as somewhat of a celebrity haunt and it definitely stood up to its glamorous reputation. A blacked out Range Rover sat outside, its engine purring, waiting for its owner to return. It was flanked either side by two severe looking bodyguards, dressed in dark suits, speaking discreetly into their earpieces.
Danielle said nonchalantly: "Oh, that's Tamara Ecclestone's car." Sure enough, Tamara's name was emblazoned in chrome letters on the front of the Range Rover.
As we walked into West Thirty Six, we walked past Tamara who was dining with friends. She looked up and smiled warmly as we passed. It's not hard to see why West Thirty Six draws the IT crowd. The ground floor boasts bare floorboards, white tiled walls exude the feel of a contemporary and quietly elegant bistro.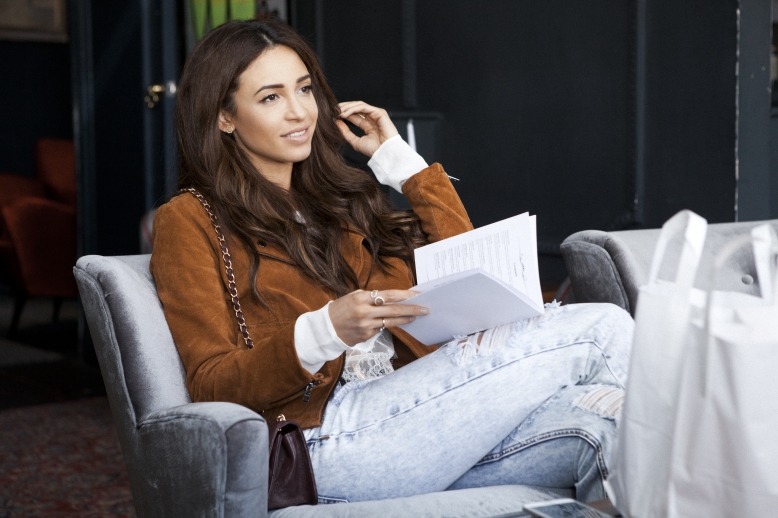 We were led up to the top floor, which we had exclusive access to for the rest of the afternoon. The top floor is really something rather special, it has the feel of a private member's club. The style is undeniably eclectic, classic toffee chesterfield sofas sit grandly amongst dozens of luxurious velvet wingback arm chairs in a rainbow of jewel colours, such as ruby, emerald and canary yellow.
The walls are adorned with innovative and provocative art and there are shelves heaving under the weight of books. The space is vast, open plan and quietly luxurious. It is a real aesthetic playground and will quickly become a home from home for businessmen and creatives alike.
We sunk into the sumptuous armchairs and surveyed the extensive menu. Our friendly flame-haired waitress Justina was on hand to recommend her all-time favourite dishes. We ordered a round of bright and fruity cocktails, which were delightfully deceptive. Their bright colour hid the fiery and generous kick of vodka that lay within.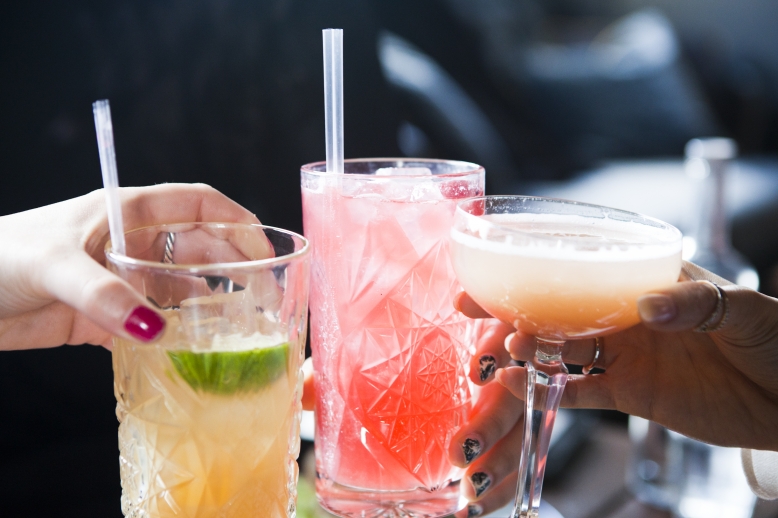 After we had placed our orders we began an impromptu game of 'Kiss, Marry, Kill'.
I thought for a moment, then asked Danielle: "Leonardo DiCaprio, Johnny Depp and Brad Pitt."
Without a moment's hesitation, Danielle responded: "If we are talking Leonardo in his Titanic days then I would definitely kiss him. I would marry Johnny in a heartbeat because he is painfully cool and I would kill Brad because of the way he treated Jennifer. I am team Aniston all the way!"
I replied: "Kanye West, J. Cole and Eminem."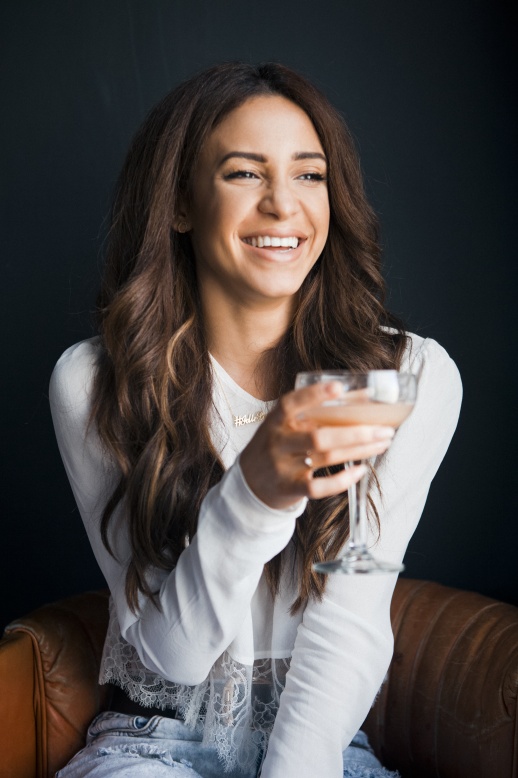 Danielle tore a hunk of fresh bread from the basket and slathered it in salty butter. She took a big bite and as she did so a mischievous smile crept across her face. She said: "I would kiss J. Cole and I would kill Eminem because although he is an insanely talented rapper, I imagine that he is crazy."
She smiled and raised an eyebrow comically, then said: "Right, now hear me out. I would marry Kanye because there is more chance of me being physically unscathed with Kanye. He may mentally abuse me but at least he would keep me looking good."
Danielle roared with laughter and it was so infectious that we couldn't help but all join in too.
Finally, I said: "Jude Law, Daniel Craig and Idris Elba."
Danielle took a sip of her cocktail and fired back: "Easy! I would kill Jude Law because he loves to go around impregnating everyone and I don't like men who can't commit. I would kiss Daniel and I would marry Idris because he seems like a humble guy, plus he is super hot."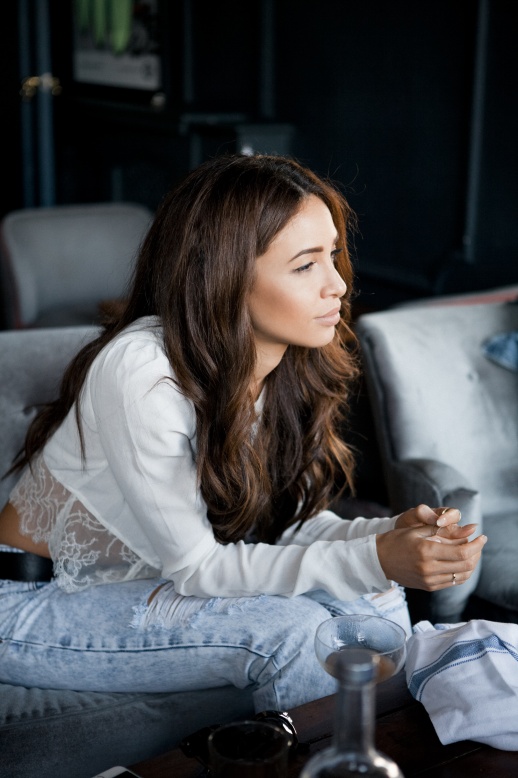 Our main courses arrived and they were extraordinary. Danielle immediately tucked into her portion of golden fries and her mountain of salad, that was topped with bacon, avocado and a perfectly cooked boiled egg, with yolk like molten amber.
The food was traditional British cuisine; the portions were generous, it was unpretentious and bursting with flavour. Danielle popped her last forkful of salad into her mouth and said: "Wow. Girls, we are having desert right?"
Our main courses had unanimously impressed us but the desserts on offer were utterly spectacular. From Justina's recommendation, we ordered the homemade apple pie and custard and built our own sundaes, decorated with crunchy honeycomb, salty peanuts and a silky rich chocolate sauce.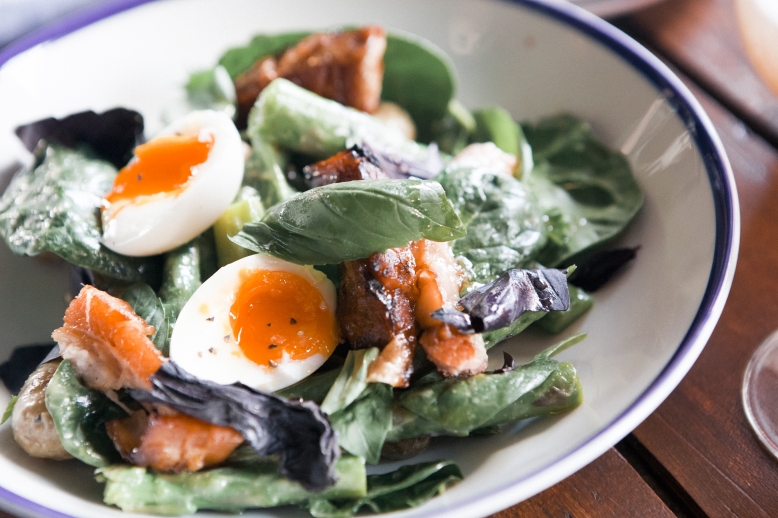 We were fit to bursting and as we gathered our belongings, ready to head back to East London, Danielle said: "I am so bringing my sister here, she would love this place. I can't begin to describe how delicious this food is."
We ventured outside, back in to the sunlight and hopped into a taxi destined for East London.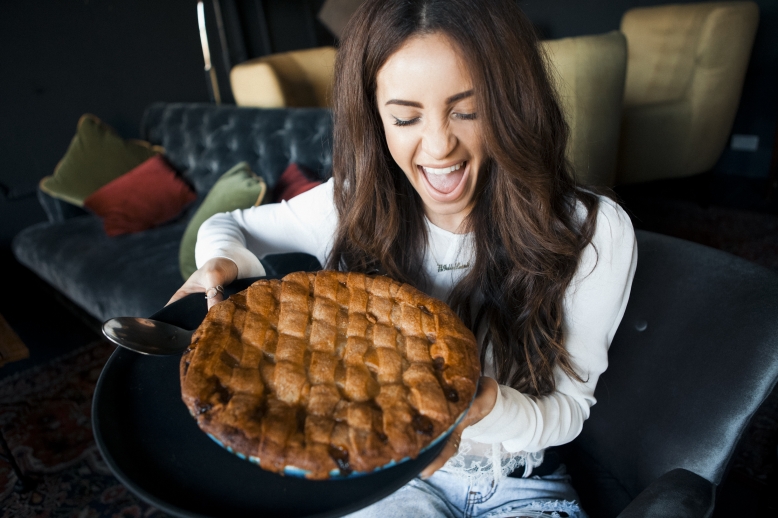 A relentless spotlight has been shone on Danielle's personal life in recent years due to her high profile relationship with former long-term boyfriend Liam Payne from One Direction. As millions follow her online, I wondered whether she felt pressure to set a good example.
We were squeezed in the back of the taxi, which felt like the perfect place for such a delicate and intimate conversation.
Danielle has amassed a vast and fiercely loyal online following of over 4 million. However, we all know too well that the Internet can be a precarious place, especially for those in the spotlight.
Danielle smiled softly, she said: "I can never express how grateful I am for my followers. I love you guys but I probably would never have got the chance to meet you and work with you if it wasn't for them. Every opportunity I get is because of their support and I am so grateful."
However, Danielle freely admitted that having a large online presence can also attract a lot of negativity.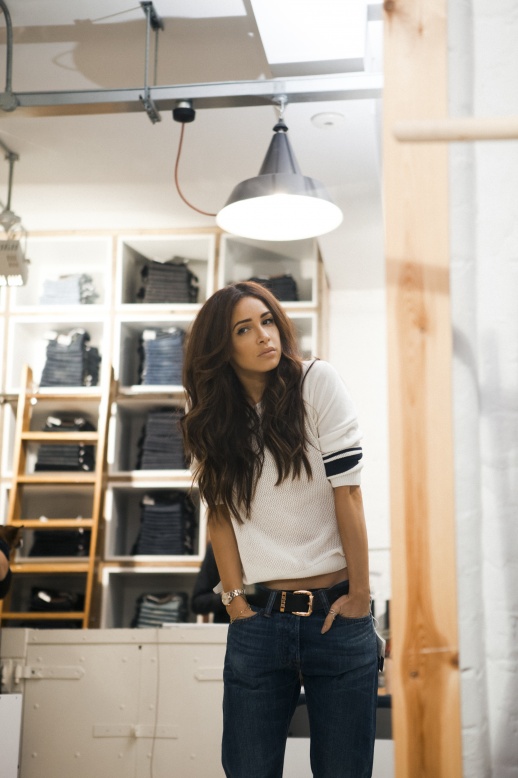 She looked somber for a moment, then said: "The majority of my followers are the sweetest people imaginable but there are those that write the most evil and frightening things."
She added: "People have tweeted me saying 'I hope you get cancer', 'your mum should have aborted you' and 'I hope you die today'.
Danielle sighed deeply, she elaborated: "It just makes me so sad that there are people out there that are so full of hate. Those comments can be extremely distressing and hurtful but I do my best to ignore them and focus on the positivity."
Suddenly she laughed long and hard, then said: "It's funny because they say the most outrageous things but they never use their real photograph or name on their profile. How scary can they really be if they have to hide behind a screen?"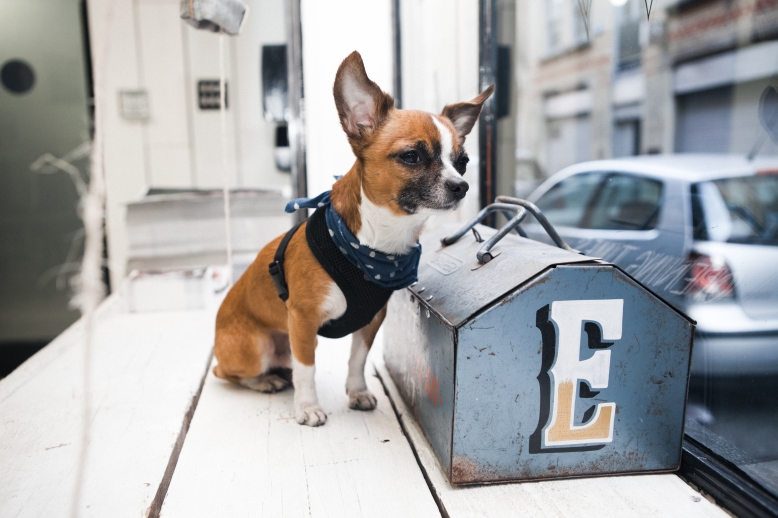 As we approached Edwin, we could see an adorable Chihuahua and Jack Russell mix dog who was staring intently at us through the window. When we got inside, we were introduced to little Indiana and we all immediately fell in love.
Danielle scooped him up in her arms and planted a soft kiss on his head. For the next hour or so Danielle temporarily adopted him, cradling his small body in her arms as she looked through the extensive racks of clothes.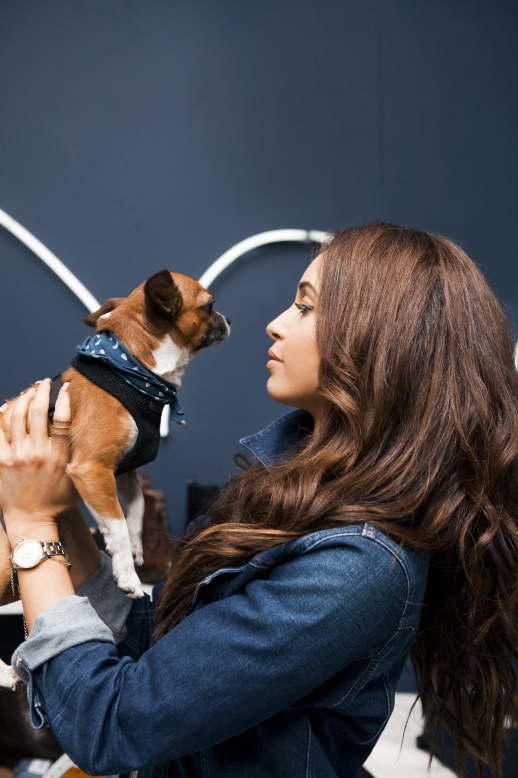 She disappeared into the changing room and re-appeared moments later looking like a supermodel in a double-denim combination. We all complimented her and she smiled shyly.
Eventually we dragged Danielle away from Indiana but not before she thanked each of the stores employees individually.
Danielle's arms were laden with Edwin bags as we walked along the cobbled streets of East London, towards our final destination of the day.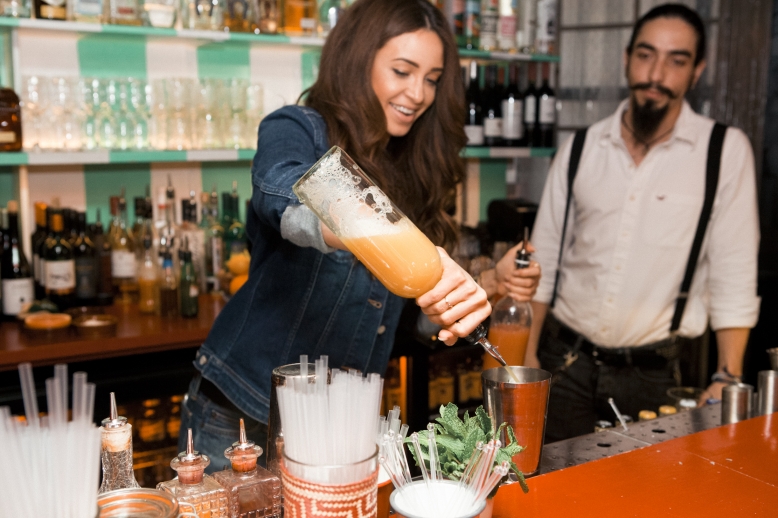 Casa Negra is an aesthetic playground, with its eclectic interior with everything from neon lights to exquisite chandeliers. Provocative art adorns the walls that reflect its Mexican heritage, such as paintings of Frida Kahlo and Mexican wrestlers in brightly coloured masks.
One of the lead mixologists gave Danielle a mini masterclass in cocktails. Under his watchful supervision Danielle created some of Casa Negra's most popular drinks. She served us all one and they were utterly delicious, although I gagged slightly at the intensity of the alcohol.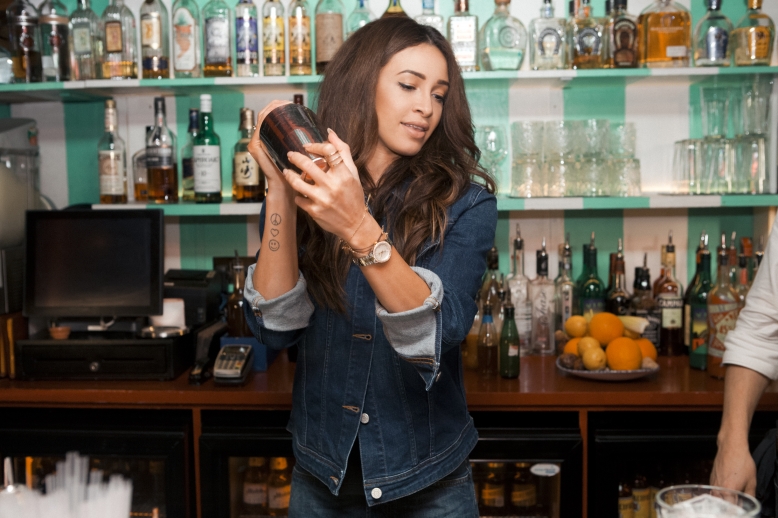 Danielle responded with her infectious and mischievous cackle once more.
Whilst we sipped on Danielle's delicious creations, we were served the best in contemporary Mexican cuisine. We stuffed ourselves with creamy guacamole, jalapenos and salty corn tortilla chips and Queso Fundido, which was made with golden Manchego & Jack cheese and homemade chorizo.
Next we sampled Ceviche Baja, a light and delicious dish made with seabass ceviche, chipotle vinaigrette and dotted with pistachio nuts and ruby gems of pomegranate.
Another highlight was the Ensalada de Elote, a canary yellow dish made from roasted corn, Serrano chili, served with a fresh lime dressing.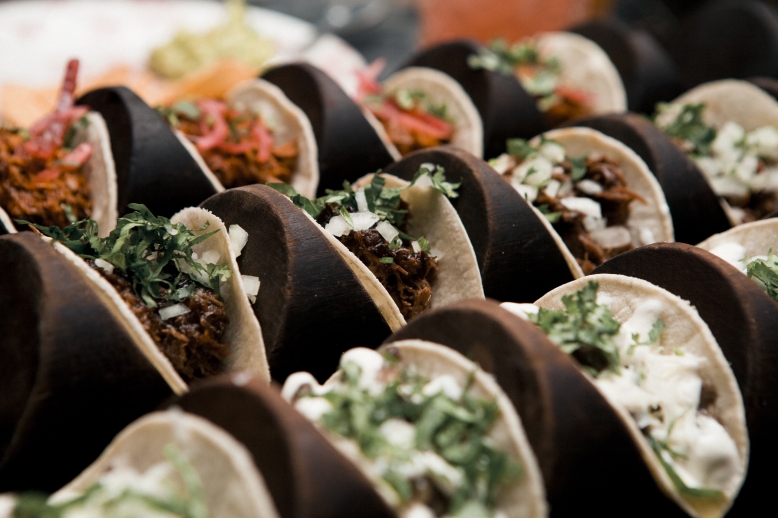 As our plates were cleared, Danielle thanked the waitress profusely for her help. One of the most impressive aspects of Danielle is not her beauty or her dark humour and refreshingly blunt demeanor. It is actually the way she treats those around her. When she speaks to you, it is directly and respectfully. She has the rare quality of making you feel as though you are the only person in the room.
She is unfalteringly polite, whether she is speaking to a waitress, taxi driver or a stranger on the street, she always gives them her undivided attention and goes above beyond to be courteous.
Unfortunately, such impeccable manners and grace are not as easy to come by as they should be, but thank god for people like Danielle, who go above and beyond to spread kindness wherever they go.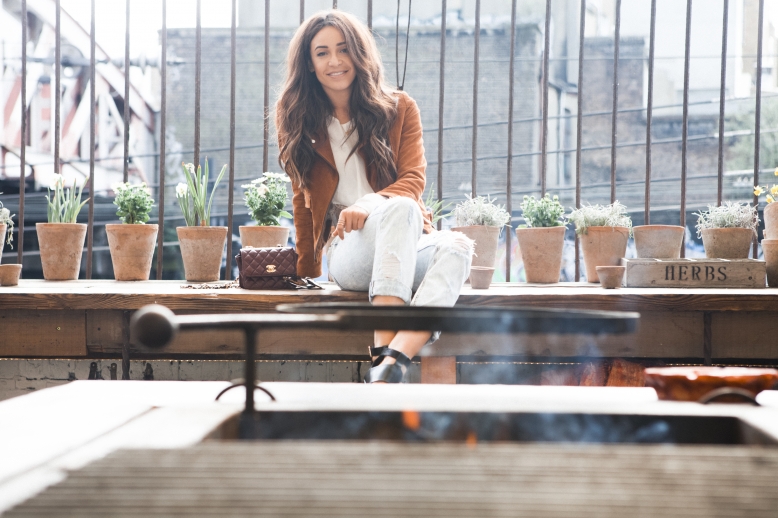 We stood outside of Casa Negra and waited for our cars to arrive to take us home. Suddenly, Danielle embraced us in a warm cuddle, she said over my shoulder: "This has been the most amazing day, I can't thank you enough."
We thanked Danielle for being a complete dream, never complaining even when she was dashing around hotel corridors in her heels or we were stuck in mind numbing traffic.
She had been a ray of sunshine all day and had kept us entertained with her sarcastic humour. She cracked jokes at her own expense and ours and always spoke straight from the heart. It had felt as though we had spent the day with an old friend and hopefully also made a new one that day.
It is for that reason that she has been one of my favourite people that I have met in a long time. I'm pleased to say that they don't make them like Danielle Peazer very often and I feel so lucky to have had the chance to get to know her. There aren't many people who exceed your expectations, Danielle is one of them.
Read our interview with Danielle Peazer here.
Follow Danielle Peazer on Instagram: @DCP1006
Follow Danielle Peazer on Twitter: @DaniellePeazer

Photographer
W Hotel
Leicester Square
10 Wardour Street
London
W1D 6QF
Thistle City Barbican
Central Street
Clerkenwell
London
EC1V 8DS
36 Golborne Road
London
W10 5NR
47-49 Charlotte Road
London
EC2A 3QT
54-56 Great Eastern Street
London
EC2A 3QR