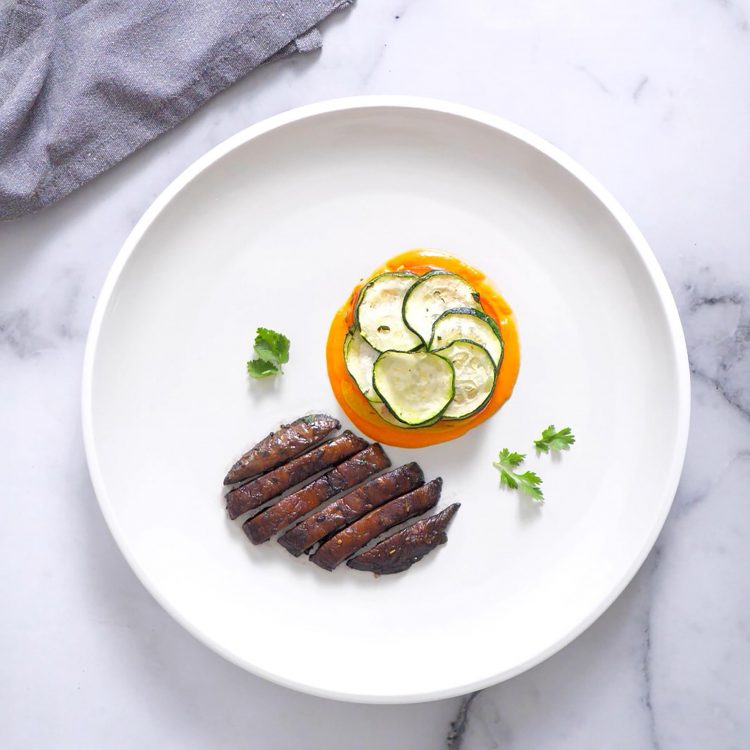 The Avani Hotels & Resorts group have created a dynamic and health conscious collaboration with the food blogger @HeyTheresia in order to showcase some great recipes to try out during the pandemic. @HeyTheresia was named amongst the top ten food bloggers by Indonesian Tatler magazine, she principally blogs about food and travel and her popular vegan recipe channel has gained a loyal following among fans of sustainable lifestyle media.
This particular recipe, the 'Grilled Portobello Steak' is the vegan answer to a sirloin, and makes a perfect light lunch.
Ingredients
2 Fresh tomatoes
2 Red bell peppers
1 Yellow bell pepper
1 Aubergine
1 Courgette
1 Fresh garlic glove
Extra virgin olive oil
Fresh thyme
Spicy tomato sauce
1 large Portobello mushroom
Salt
Method
Finely chop the tomatoes into slim, circular disk and dice the red bell pepper. Drizzle a little extra virgin olive oil over the pieces in a shallow baking tray and bake for 20 minutes at 180c. Once baked and very soft add to a blend proof container, season a little and add a tiny splash more of olive oil. Blend thoroughly until smooth. Separately, combine 1 chopped yellow bell pepper, 1 chopped red bell pepper, chopped aubergine and courgette, one finely sliced garlic clove, finely chopped fresh thyme and season well. Allow this mixture to marinate for 10 minutes. Layer the chopped veg into a bake-proof steel small circular ring and top with spicy tomato sauce. Bake the ring on a shallow tray for 15 minutes at 160 degrees. Take one large Portobello mushroom, place in a bowl and add finely sliced garlic, thyme, olive oil and seasoning. Fry the mushroom, covered in its seasonings. Plate up the mushroom, and pop out the vegetable layers from their baking tin and place alongside the mushroom to be served.