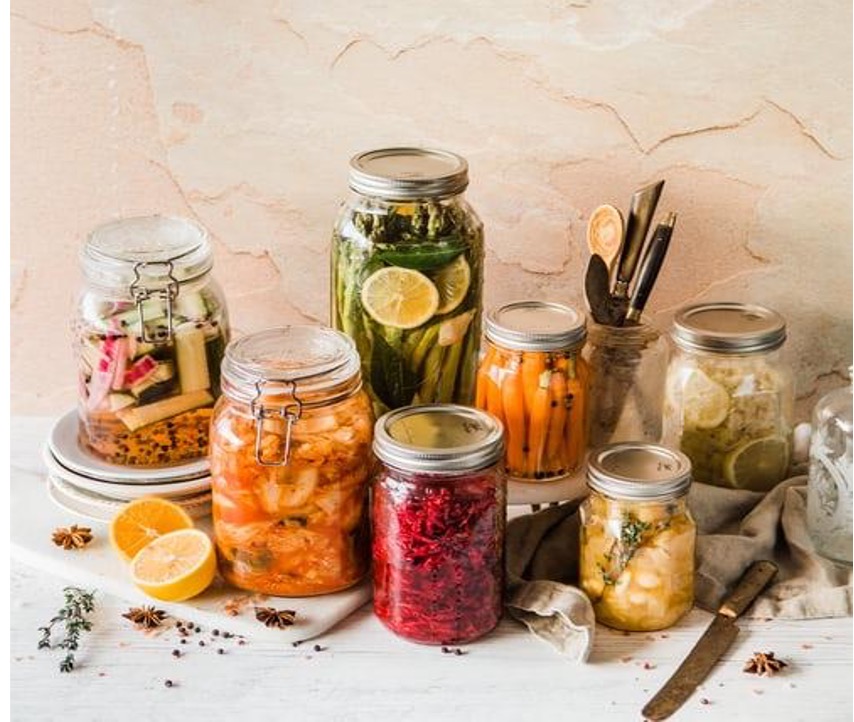 We've all grown up eating pickles. Pickles are delicious with sweet, sour, spicy & tango flavors and come in a rainbow of vivid colors and crunch levels.
It is time to put the drab supermarket pickles aside and start pickling your own pickles! You're living in a time of a pickling renaissance of sorts. People are pickling every vegetable and fruit and even fruit rinds and posting their experiences all over social media these days. You'll be able to tell your grandchildren stories about growing up during the golden era of pickling when you're 80.
Pickles have a delightful crisp and tart flavor that very few can resist. They're a great way to add flavor and texture to practically any dish, and they're an excellent substitute for celery in macaroni salads.
Pickling is a standard method of preserving fresh, in-season food for year-round use. The acidic addition of vinegar-based brines to vegetables and fruits results in a wonderfully multilayered flavor that goes well with salads, sandwiches, and grain bowls.
There are plenty of recipes and resources available if you want to learn how to pickle your own concoctions at home. You can also check the recipe for canned pickles with beets. Pickled beets are not just easy to make but good for your health too. Meanwhile, here are some fantastic pickles that you must try making:
Pickles with garlic and dill
Are you going to listen to a cartoon stork who sounds like Groucho Marx explain to you how to eat dill pickles? The handmade version of this deli classic gets significantly better reviews than the store-bought one. Serve with pastrami on rye or eat a spear alone as a healthy snack.
These pickles are delicious on sandwiches, burgers, and more! So at your next barbecue, toss dill pickle chips on veggie burgers, mushroom burgers, po' cauliflower boys, black bean burgers, or BBQ jackfruit sandwiches. Alternatively, for gourmet lunch, offer spears alongside one of these sandwiches:
Jamaican Pickled Peppers (Spicy)
Anyone who has tried jerk seasonings knows how much Jamaicans like bringing the heat to the cooking. Their pickled peppers carry the torch: ginger, peppers, and vinegar combined with various veggies to create this vibrant Caribbean relish.
Kimchi with Napa Cabbage
Salted and fermented vegetables like cabbage and scallions are used to make Korean kimchi. The effervescent, pickle-like crunch comes from the lactic acid created during fermentation.
This Korean favorite takes a while to prepare (fermentation takes time), but it is well worth the wait. While traditional seasonings and preparations can be used with various vegetables for kimchi, cabbage is the original base.
Pickled Jalapenos with Bourbon
Honey-bourbon-soaked peppers combine sweetness with fire. This recipe requires vinegar to speed up the fermentation process rather than fermenting the vegetables for a few weeks.
Pickles made with Kool-Aid Liquid.
The Kool-Aid Pickles are pickles that have been brined for a week in a mixture of pickle juice, Kool-Aid, and sugar. Kool-Aid is made of water, citric acid, gum arabic, and sucralose (a kind of sweetener). Depending on the flavor of Kool-Aid used, they turn a deep red, blue, or purple color.
These pickles are created with pickle juice, Kool-aid, and sugar, as stated above. Tropical Punch and Cherry are the most popular Kool-Aid flavors. However, you may use pretty much whatever flavor you want.
The sugar and Kool-Aid are stirred into the pickle juice before being poured back over the pickles and chilled for roughly a week. Every day, give it a good shake to ensure that the brine is uniformly dispersed and that the pickles absorb the flavor and color of the Kool-Aid.
Red Onions Pickles
Although hardly one admits to liking onions, they are the essential parts that make almost everything taste nice. When pickled, they give a sour pop and crunch to anything from hamburgers to macaroni salad to roast meats.
Spicy Radish Pickle
Fresh radishes are frequently garnished with a hot meal in Mexican food to cool the taste. The combination of heat and chill is what makes hot and spicy pickled radishes so difficult to put down. Pickled radishes also turn the brine a vibrant crimson color, and their white flesh changes the color!
Pickles made with sweet squash
The sweet-sour flavor of these crisp, crispy pieces, spiced with celery seed and mustard seed, is guaranteed to please! The vibrant combination of yellow squash, sweet red pepper, and chopped onion creates a gorgeous appearance.
Pickled broccoli with spices
We can all agree that broccoli is healthy; similarly, apple cider vinegar is said to offer numerous health benefits; and spicy meals are said to speed up your metabolism. However, we're not sure there's anything as tasty and healthy as hot and spicy pickled broccoli with apple cider vinegar. Bonus points if you use these gems to dress up a salad.
Torshi
Many Middle Eastern civilizations use torshi as a pickle. Adding more vinegar to the pickling solution results in a stronger emphasis on sour flavors (akin to the relish character of giardiniera). After boiling in a 1:1 vinegar-to-water ratio, the vegetables are covered in a mixture of chopped garlic, chopped herbs (such as mint), and salt. Next, they're stored in a glass jar with a fresh vinegar-water solution of 2:1.
Peaches Pickled
Fresh peach quarters soaked in vinegar, sweetener, and hot spices is a traditional southern treat. Enjoy these pickled peaches with desserts like ice cream, pound cake, roasted meats, vegetables, or toss with salad greens.
Pickled Asparagus and Carrots
When it comes to herbs, tarragon is usually overshadowed by stems like basil or thyme. But this recipe for pickled asparagus and carrots proves that fresh tarragon has a delightful distinct, mild flavor that pairs well with veggies.
Japanese-style Pickles (Amazuzuke)
Amazuzuke Japanese-style pickles (tsukemono) are among the best in the world, especially when they use the amazuzuke sweet-and-sour technique. When it comes to crunchy daikon, the combination of sugar and rice vinegar is unbeatable. It's a great amuse bouche to make ahead of time or as a palette cleanser after a meal.
Quick-Pickled Cherries
The intense flavor of fresh summer cherries is delightfully balanced with a dash of salt. These quick-pickled cherries are the appetizer to serve during summer events if you want to impress your guests.
We hope that the above pickle flavors may inspire you to make your homemade pickles. We're excited to know which option you prefer!